Bathroom waterproof pvc spc skirting board 
SPC flooring accessories include spc skirting board,Flooring edge trim,T-moulding, End cap, Reducer, Stairnose,Quarter round,Base shoe,L profiles, F moulding etc.
Extra tall skirting board molding conceals the joint between an interior wall and the floor. Alos used to protect the walls from scuffs and floor cleaning tools.
Product Name
Bathroom waterproof pvc spc skirting board
Brand
Anyway
Raw Materials
PVC Resin and Calcium Carbonate
PVC Content Range
30% to 70%
Surface Technology
Printing, High Glossy, Hot Stamping, Laser Film, Laminated
Surface Shape
Flat or Groove
Color & Design
Any colors and designs are available
Thickness
5mm/ 6mm/ 7mm/ 7.5mm/ 8mm/ 9mm/ 9.5mm/ 10mm/ 11mm/ 12mm
Width
6cm/ 10cm/ 12cm/ 16cm/ 18cm/ 20cm/ 24cm/ 25cm/ 30cm/ 59.5cm/ 60cm
Length
2m/ 2.7m/ 3m/ 4m/ 5.8m/ 5.95m or as your request
Certification
ISO9001: 2008, SGS Testing Report
Application
1. Household Decoration: Bathrooms, Shower Rooms, Kitchens2. Public Place: Toilets and Halls

3. Office: Ceiling of business Place, Aisle

4. Hotels, Commercial Buildings, Hospitals, Schools, Cooking Rooms

5. Any Internal Walls or Ceilings In Any Room

Feature & Advantages
1. High Strength, Erosion Resistant, Heat Resistant, Impact Resistant,Aging Resistant, Hygienic2. Fireproof, Waterproof, Rot-proof, Rustproof, Damp-proof and Environmental Friendly

3. Any Colors and Designs are available

4. Good Appearance and Anti-discoloration

5. Light in weight, easy to install and clean

6. Durable and with long Life

7. Competitive Price and High Quality
Quality Check of skirting board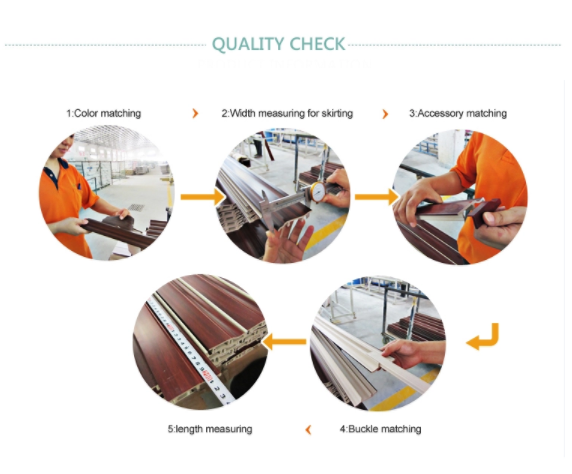 Packages&Shipment
Packaging Details:Carton then pallet.
Delivery Time:Two weeks after received advance.

Installation of skirting board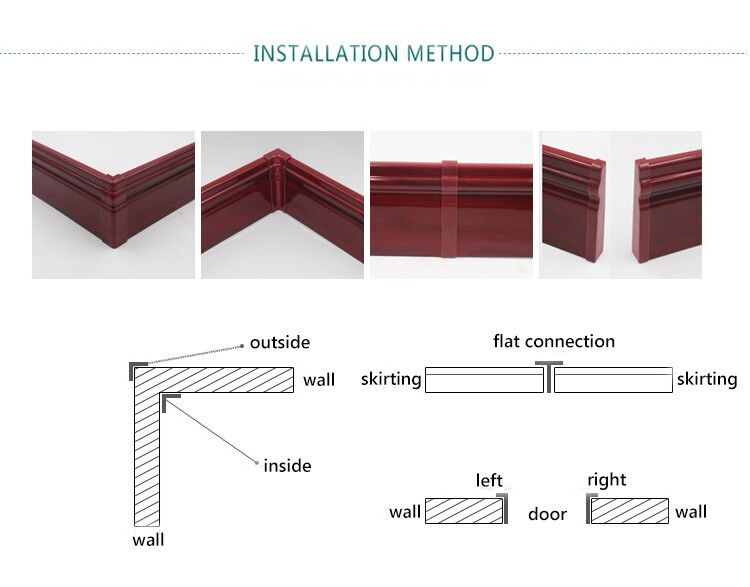 Appliaction of skirting board